I spent half my Saturday shopping with my baby girl, just her and me. Both Alycia and Drama Queen were in school.  The mil was in Ipoh and the hubs had to work.
Before we  left for Mid Valley Megamall, we had breakkie at a neighborhood cafe, tucking into our favorite best-in-the-world Mee Siam and mushroom tomato omelette.
Cass at work – decorating her notebook with FOC rubber stamps at Muji. She adores these rubber stamps and I can see that even adults are just as enthusiastic in them from the crowd at the stamping station.
A shopping queen in the making, just like her mum! Cass queuing up to pay for her dresses at Uniqlo 😁
Upon recommendation by a friend, we tried Q Zai Eggette, a popular snack made popluar in Hong Kong. Q Zai are waffles in the shape of a bed of little quail eggs. Cass and I had fun popping and munching these little eggettes on the go while walking the mall.  Q Zai is located on the same floor as the cinema at Mid Valley Megamall.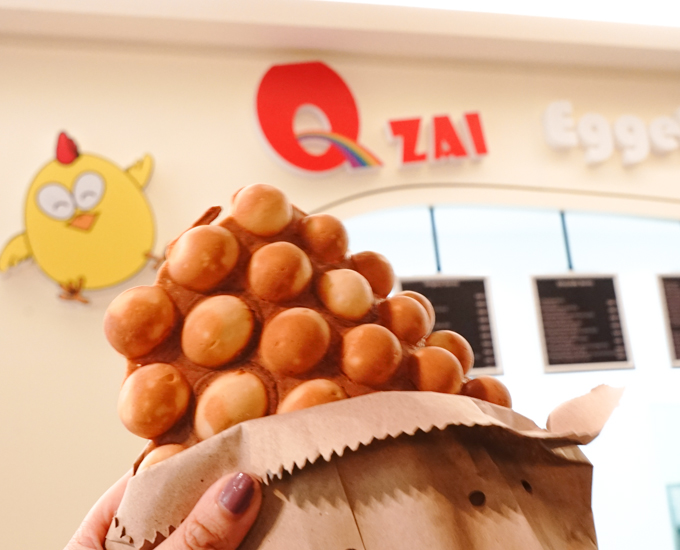 After shopping, I sped to school to pick up Drama Queen. We had overspent our time at the mall and were late!  Back home, I told Drama Queen that I was craving to have some flour-free banana pancakes, which Drama Queen can whip up some very yummy ones.  Without even hesitating and bursting with enthusiasm to cook / bake, my chef wannabe hurriedly prepared the ingredients, which composes of  only eggs and ripe bananas, that's it, this simple… and of course a little oil for the pan.
Soon, the big girl who was craving for some pancakes 'ordered' pancakes from the chef wannabe and she of course was ever too pleased to accept. Drama Queen quickly gathered the ingredients and made 2 batches of fluffy pancakes.  Then she had a light bulb moment. She made another batch of pancakes so that we could have them for breakkie the next day!  The big girl took a breather from studying for Chemistry and Chinese language and helped out in the kitchen. This girl with 'royal fingers' seems to have a liking for making pancakes and that's the only time she would help out in the kitchen.
Perfect pancakes made by Chef Sherilyn and Chef Alycia – crispy on the outside and pillowy on the inside!
After our late lunch of pancakes, Cass attended piano lesson.
Cass with teacher Crystal.  She's currently learning to play "Scars To Your Beautiful" by Alessia Cara, her latest favorite pop song 🙂