I had wanted to bring the girls for a train ride from KL to Ipoh since KTM launched the ETS (Electric Train Service) not too long ago.  Apart from the monorail train ride in KL, the girls had never been on an inter-city commuter train ride. Since the girls' grand aunt was able to accompany us, it was a perfect timing to bring the whole rambunctious jing gang up the train. Thankfully we managed to get a front seat, which had ample space for us to put our luggage bags and paraphernalia.  We were in Coach B, which was WiFi enabled but heck, though I was connected to the ETS WiFi on my handphone, the WiFi strength was really bad and I could not surf at all. The toilet was also located at the back of Coach B, which made it easier for me to bring the girls to experience peeing in a moving train lol!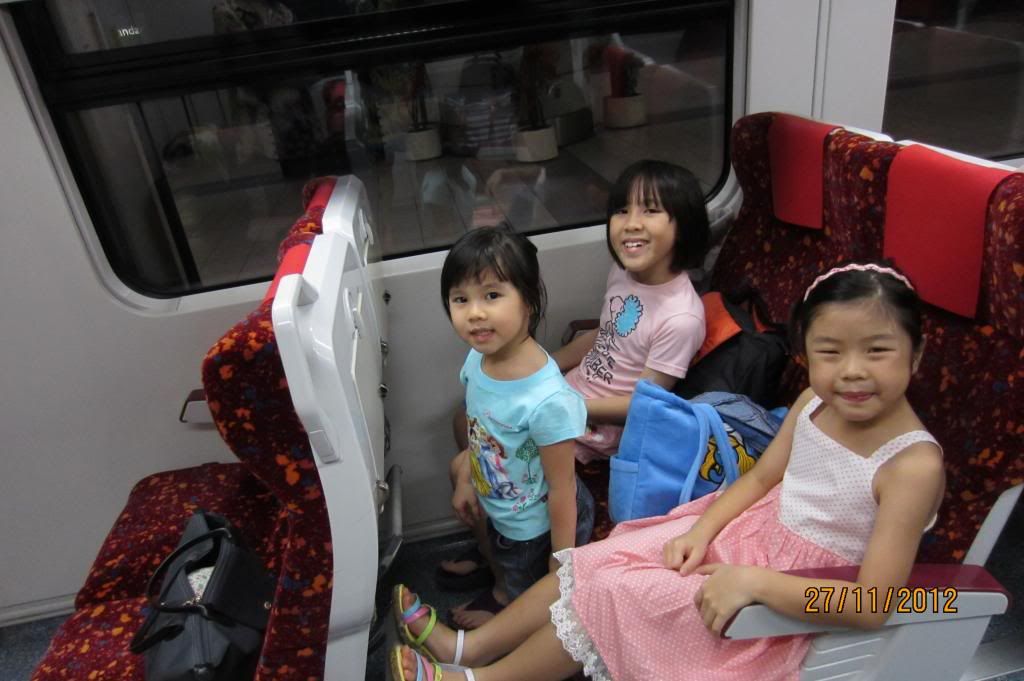 Occupancy in our coach was only about 40% full, so there were many empty seats for rascal #2 and #3 to roam about and choose where they wanted to sit, throughout the 2 hours 15 mins train ride.  My social butterfly made friends with 2 little Indian girls seated behind us and they exchanged snacks.  Sherilyn gave her a bun and she gave Sherilyn a packet drink.
The wall-mounted TVs were right in front of our seats and besides getting the privilege of large space for our belongings, we had clear view of the TV too.
Rascal #2 walloped 3 big buns during the train ride.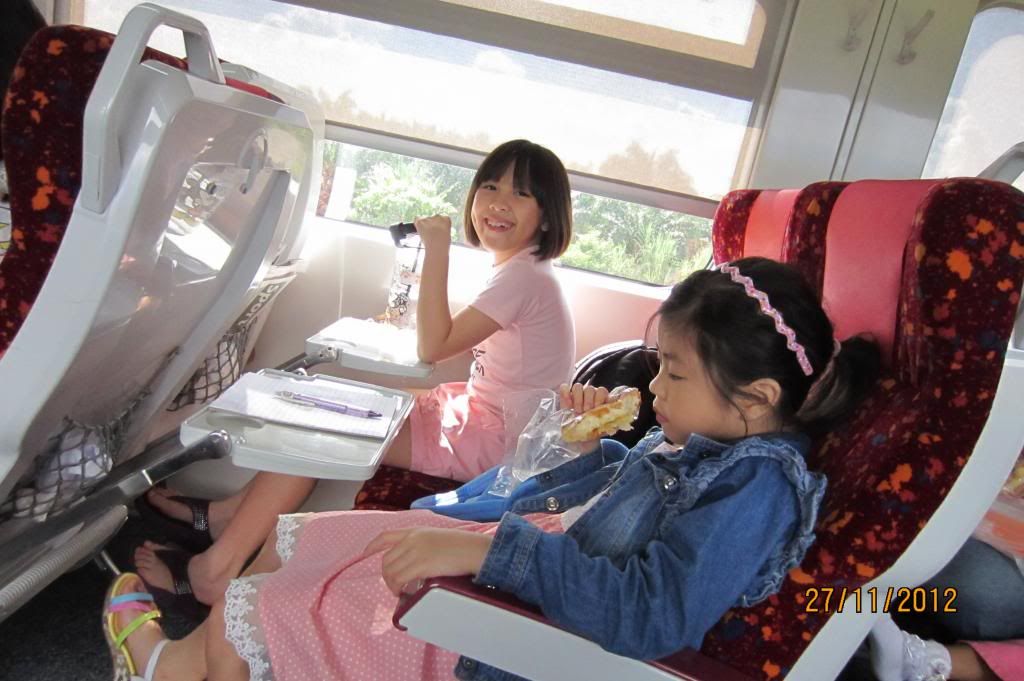 Peeing had never been this fun on a moving coach lol! The cleanliness of the loo met my high standards.

Will there be a second time boarding the ETS? Why not? For sure I will bring the girls for another train ride. It was definitely way more fun than being belted up in a car!
For North bound rides, ETS is only available from KL to Ipoh.
You can call 1 300 88 5862 to inquire and even make your booking through the phone. We booked our tickets through this toll-free number and tickets must be picked up by 5pm the day prior to boarding the train. We boarded the train at KL Sentral station. You can opt to board the train at the main train station in KL too.
No. of times viewed = 2269