The weather in the Klang Valley has been crazily hot and choking. Never mind that it is hot and choking with haze as long as there is flowing water from the taps. But no.   Most areas in the Klang Valley have been affected by the water rationing exercise.  My heart goes out to those affected by the water rationing. I can imagine their sufferings now in this hot and hazy weather, leaving them sweaty, moody and angry.
So imagine… on a hot and sweltering day, there is not a drop of water from the tap for you to shower.  All the windows in your house are shut as it is too hazy and smoky outside.  You feel so tempted to touch the Start button of the air-conditioner BUT then you remember that effective January 2014, electric rates have increased!! So how?  Strip off the layers of clothes and sleep on the cool floor of the house lor.  If the kampung folks can live peacefully with minimal usage of electricity and water, so can we, right?!
I was waiting for the hubs to pick me up after buying lunch yesterday.  The temperature was about 36 degrees C but felt like 40 degrees C.  I was sweating profusely, though I was waiting outside the shops under some shade. The skies were still bluish but devoid of clouds, as shown in the picture below.  Even if there were clouds, cloud seeding cannot be done now as all the air crafts have been deployed to search for the missing MAS 370 plane.   If the drought continues, I think my area would definitely not be spared from the water rationing.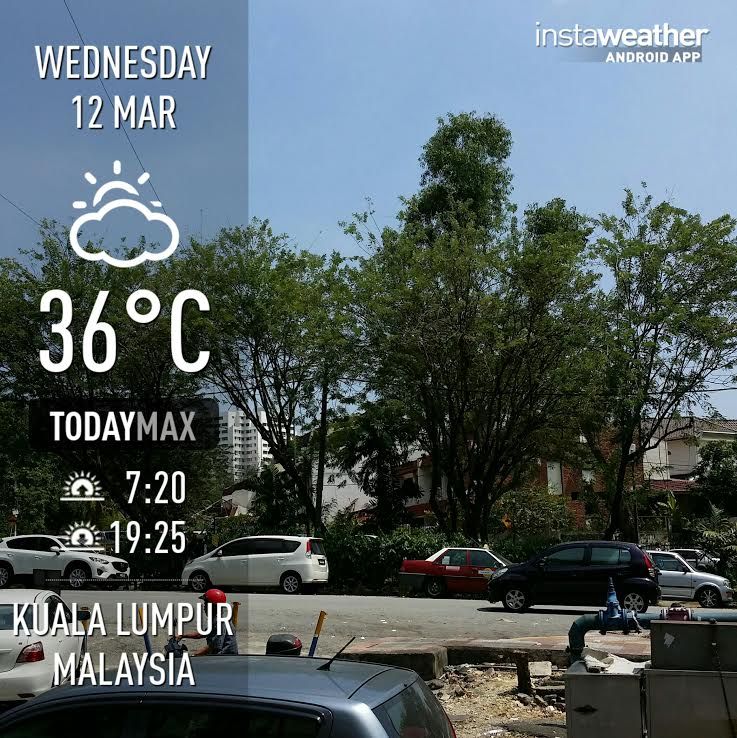 The haze condition worsened drastically this morning.  This picture was taken at 7:45am. It smelled of smoke everywhere, even inside the house.  Alycia told me last night that she felt as if she was in Genting Highlands as the skies looked gloomy.
With such gloomy weather and gloomy news everywhere, everyday, I am feeling gloomy too.   It's just 2 more days to Sunday and I can't wait to zoom off to the shopping mall to get my dosage of retail therapy and to enjoy the free air-cond teeheehee….
No. of times viewed = 3181
Please follow and like us: