The foodie hubs brought us to this new cafe that boasts to serve one of the best gourmet coffee in town. We went to PULP last Tuesday morning, which was a public holiday.
When we were outside the cafe, for a moment, I had second thoughts about the cafe, given that this cafe is located at a very unlikely place – at a printing factory vicinity!  From the facade, it does not look impressive to me.
But I should not have judged the book by its cover just yet, not until I stepped inside.
According to hubs, this cafe opened with a big buzz with famous people attending the opening.
Pulp is located behind the NSTP (New Straits Times Press) building in Bangsar, a standalone building which is previously a storage facility that belongs to the printing press factory next door.
This independent coffee boutique is operated by the respected Singaporean boutique Papa Palheta, the people behind Chye Seng Huat Hardware and Loysel's Toy cafes, specializing in roasting and purveying specialty coffee.
I would never have guessed that this is a cafe from the outside!  It looks like a factory canteen to me honestly!
But this is how is looks like inside.  Pretty impressive!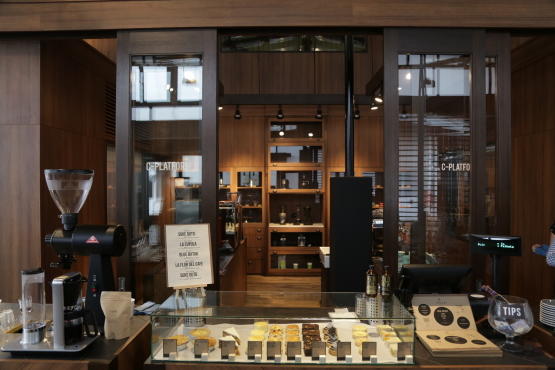 Specially brewed, thick and aromatic coffee that we ordered.  Our girls hijacked our coffee as usual!
Actually we did not plan to have breakfast at PULP.  We wanted to have steamboat for brunch at a Japanese restaurant but it was not opened yet.  To kill time, hubs brought us to PULP to sip some coffee and indulge in some cakes.  This is his interpretation of a public holiday – eat, drink coffee and relax!  This man of mine lives to eat, unlike his wifey.  He ordered cakes but these days, I am not in the mood to eat creamy carbs.   But what the heck, life is short and unpredictable.  So what if I gain a pound in a day?  So just whack la! lol!
Scones…
And quiche…
Will we go there again? Yes likely, given that hubs, mil and I are all coffee lovers (not to mention the girls), the persnickety hubs and mil love their gourmet coffee and this cafe is not too far from where we stay.  So yea, we will probably pop by at Pulp again soon!
Pulp By Papa Palheta
29-01, Jalan Riong, Bangsar, Kuala Lumpur
Tel: 03-2201-3650
No. of times viewed = 1950
Please follow and like us: