Congratulations that he proposed to you! Now that wedding bells are starting to ring, there's really quite a bit to do to plan a wedding of your dreams. Apart from the wedding date, one of the first planning decisions you'll have to make is choosing a wedding venue . It's not always the easiest decision, but a good way to start is to decide if you'd prefer a more formal or more casual wedding. If a laid-back, casual wedding is your goal (and you'd like to get married in a warmer month) a beach wedding venue can be an ideal setting. A beach wedding is best for couples who prefer a little adventure and prefer something a little different.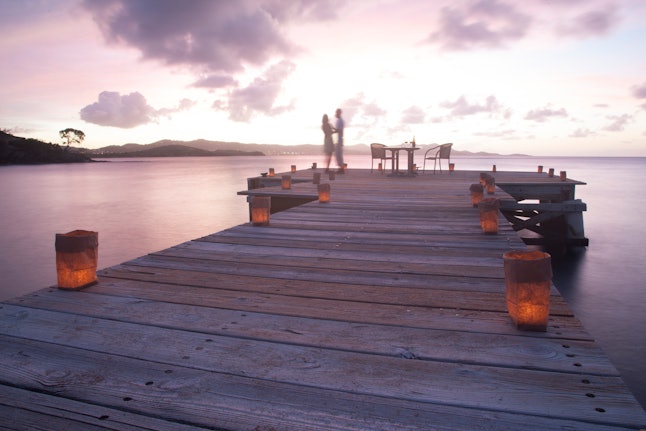 If you've already settled on a beach wedding, the next thing to do is to look for your dream beach wedding dresses.
A beach wedding would also probably mean that your dream dress is more understated and elegant than flouncy and embellished, and you really don't mind ditching high heels for sandals or even go bare-footed!
When you plan a beach wedding, it is likely that fewer people will be there;  but for many couples, that's a plus! It gives you an excuse to spend more time with a tighter group of people that you actually want to spend time with. At a 'traditional' wedding you only get a couple of hours.   No second cousins or random friends of your parents here! 😉
When it comes to choosing your wedding dress, you can opt to shop for it online or offline. MillyBridal is a must-shop stop when you are searching the web for the dress of your dreams. They have a great site with stylists who are available online to help you find the dress of your dreams.  You can ask them anything from styling and sizing advice and tips on the perfect accessories for your dress, or just a second opinion.  They carry some absolutely stunning elegant gowns that you'll sure to love.
At MillyBridal, most of the dresses are made-to-order. You can choose a standard size or custom measurements and their tailors will craft each dress to order.  Tailoring time takes between 8 – 10 days and it takes 3-6 days for your dress to arrive.
With a reasonable return policy, good customer service, and exclusive dress styles, MillyBridal is one of the best options for buying a wedding dress online.
Whether you are looking for plus size wedding dresses, petite wedding dresses, sexy, ball, mermaid, vintage or even maternity wedding dresses, you'll sure to find them at MillyBridal.
Couples often wonder if they should have the wedding inside or out, mountain side or in the jungle and so on; but stop for a minute and just think about how amazing it would be to celebrate your wedding at the beach. Imagine soft, white sands, gentle waves hitting the shore, the scent of salt on a Caribbean breeze, and the russet hues of a sunset adding beautiful splashes of colors to your wedding photography. A beach wedding is the perfect setting for the best day of your life where you'll have no regrets.
No. of times viewed = 21