We had a very early breakfast today as the hubs had to be present at the client's site  in the morning to set up for a mega Hari Raya Open House function for one of his corporate client's on Tuesday.
So off we left the house at 9:15am for Ted Boy Bakery at Bangsar. Parking was easily accessible for us early birds.
TedBoy Bakery is owned by Edward and Patrina, who name their establishment after their baby boy – Ted Boy. Edward used to run a business overseas while Patrina has pharmaceutical background. The husband and wife team decided on a switch in career in order to spend more time with their Ted Boy. The cafe only serves wholesome and healthy food that Ted can munch on. Their breads and pastries are made with no preservatives and left over breads are donated to charity at the end of everyday.
This photo of Tedboy Bakery is courtesy of TripAdvisor

This photo of Tedboy Bakery is courtesy of TripAdvisor
TedBoy Bakery in the media…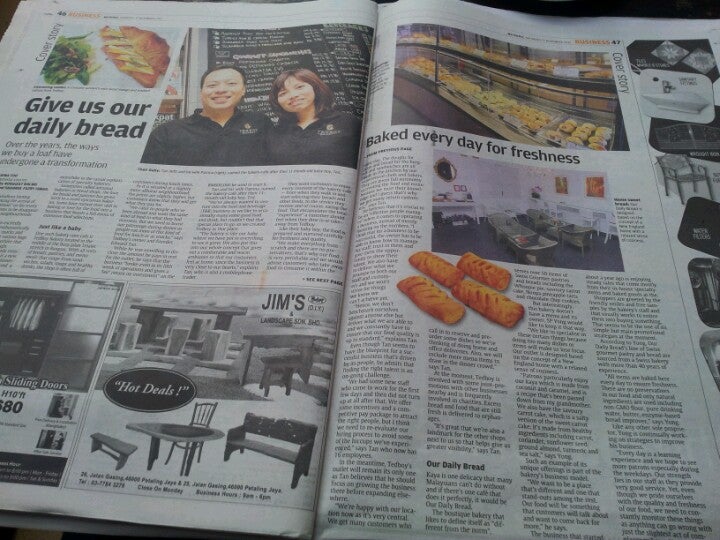 The couple who own TedBoy with their baby Ted. Lucky boy he is to have an awesome bakery named after him eh?
After spending about 15 minutes gazing at the trays of mouth-watering pastries, cakes and artisan breads, the girls picked a banana muffin (of all things, sigh!), a cheese stick and a creamy chicken quiche.   The 3 items that the girls chose passed my strict standard in terms of taste and quality 😉
The girls were surprised to see Minion cuppies but they know they cannot get mummy to buy them food with artificial coloring as they know they ain't good for health…
Scrambled eggs with toast on the left and egg and ham focaccia on the foreground. The healthy fresh Mint Smoothie, which composed of kiwi, pineapple, mango and mint leaves was mine.  The egg and ham focaccia that I chose was a tad disappointing as the focaccia bread was not what I had expected.  I polished off the ham and egg though and left 3/4 of the focaccia bread untouched.
American breakfast below.  Using the ever popular Antipodean Cafe's similar breakfast set as yardstick, this is given a 6/5 rating vs. 9/10 for Antipodean based on HFM's food scale rating.
Mushroom soup and toasted bread got a 6/10 rating as well.  Mushroom soup was pretty run-of-the-mill and tasted like canned ones.   The girls like it very much anyway and they requested daddy to order another set later.
The Spaghetti Pesto  got a 9/10 rating from us.  The pesto sauce was fresh and the chef was pretty generous with the Pesto sauce. This dish inspired the girls and I to hop over to Village Grocer @ Bangsar Village after breakfast to get some fresh basil leaves and pine nuts to make our own pesto sauce!
The foodie hubs picked a slice of strawberry shortcake and  a slice of Awfully Chocolate cake for dessert.  We were all so stuffed with our breakfast that we did not really enjoy the cakes.  The cakes are given a 7/10 rating on HFM's food rating scale.
Menu on iPads seem to be faddish these days in many upscale restaurants and Ted Boy Bakery has joined the ranks too.  They have iPads mounted on the wall for patrons to browse the menu and for kids to play games while they leave their parents to eat in peace. That was exactly what I saw — a couple who left their son of about 3YO to eat alone whilst he played with the iPad and they ate separately on another table!
Finally came the bill.  For the quantity of the food that we ordered which left us stuffed until dinner (we skipped lunch!) and the location of the restaurant (in upscale Bangsar), I'd say that it is pretty reasonable and comparable with other cafes of this stature.  Plus, with their loyalty stamp card, we are now entitled to a free cake and sandwich the next time we dine at the bakery!  It is little freebies like this which pull the crowd back again.
As we drove past Antipodean after shopping at Bangsar Village, we saw several looooong bee lines outside Antipodean Cafe, located a few doors away from TedBoy! The crowd was unbelievably huge, though expected.  In terms of taste and quality, we still prefer Antipodean but as fans of brunch, we want variety and are always hunting for new cafes to try out different menus.
I would foresee us going there again to claim our free items plus to try out other items on their menu 🙂  I am always game when it comes to healthy food.
Tedboy Bakery,
10, Jalan Telawi 4, Bangsar, Kuala Lumpur.
Tel: 03-2202-1312
Open 8am through at least 9pm daily
No. of times viewed = 1545