Our 6th day in Hong Kong on 11 December 2015 was the most exciting day throughout our stay in Hong Kong.
In the morning, we set off to Lamma Island.  We took a bus to the city, then took an MTR to the harbour.
Below – While waiting for the ferry to arrive, the kids played 'hot potato' ball game at the quay. And the kids on the ferry on our ride to Lamma Island.
Upon arrival at Lamma Island, the kids were famished. We bought fish balls for them to munch while we walked around the island to hunt for a restaurant to have lunch.
Below – We had lunch at Andy's Seafood. I wonder if this restaurant belongs to Andy Lau? Haha..
Our lunch…
This lunch consisting of simple dishes cost us a whopping RM500+ for 6 adults and 6 kids!  But it's by the beach and it's a holiday resort, thus the justification for the price I guess.
Below – at one of the piers at Lamma Island, after lunch.  The kids, their uncle Dick and aunt Sarah were in awe, watching a man fishing. He had a bountiful loot in his basket!
Below – after lunch, we had to take a half-hour stroll to the beach. There were several groups of tourists on single wheel electric scooters traipsing the island.
We saw this cute doggy on our walk to the beach…
After a long and breezy walk, we reached the beautiful beach.  Walking along the island village reminded me of my camping days at Lumut and Pangkor Island about 30 years ago, when I was in my early teens.
Below – the kids playing at the beautiful beach of Lamma Island.
Whilst the kids played at the beach, I sat under the tree and enjoyed my bowl of 'tau foo far' which is a specialty at Lamma Island. We saw many tourists queuing up to buy the 'tau foo far' at a small stall along the way to the beach…
We left Lamma Island at 5ish pm. By the time we reached Disneyland, it was 7ish pm.  Only Cass, my eldest SIL and I went to Disneyland. We took the MTR from IFC Mall to Disneyland. The rest of the kids commented that Disneyland is too kiddish for them. Plus the rest of the kids had been to Disneyland several times.   I thought Disneyland would be too boring and kiddish for me too initially, but when I was inside, I didn't want to leave. It was so magical there!! I loved the ending where there was a fireworks display, a parade of all the Disney characters and lastly, the release of fake snow for a good 15-20 minutes.  All my favorite childhood characters came to life and with this visit, my childhood dream of visiting Disneyland has been realized 🙂
Below – the MTR to Disneyland is Disney themed. The railings, handles, windows, etc are decorated with Disney characters.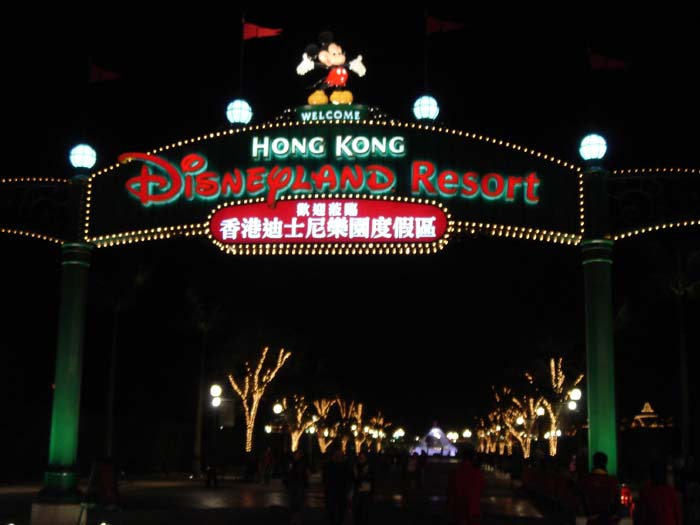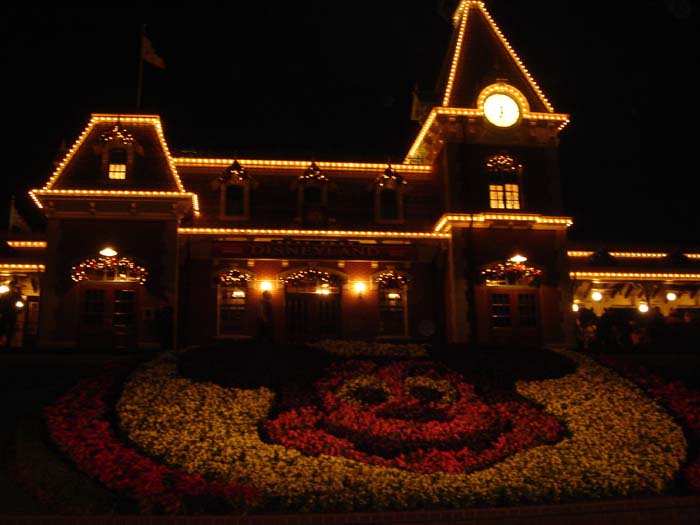 I wanted to snap many pictures but it was pretty quite dim inside Disneyland. Plus my phone camera does not work well at night and in under dim conditions.
We watched the kick-ass fireworks display but could not capture the pictures on my phone camera. I did not want to spend my time fidgeting with my phone and miss watching the fireworks.
The Hong Kong Disneyland fireworks and night parade pictures below were taken from flickr.com. Yup, they were this awesome, complete with blasting Disney music. It was very surreal.  When the fireworks display was over, fake snow was released.
We only had our dinner at 9:30pm after the fireworks display and snow fall were over.  We were never that hungry before and had never taken a dinner this late!
Above – check out Cass' Disney themed dinner. So enticing and very tasty too.
Below – my vegetarian lasagna, which was delish too. Perhaps we were so hungry that all the food tasted superb to us, haha!
After our dinner, we took the MTR back to IFC Mall, by which time my eldest bil was already waiting for us to fetch us home. It was close to midnight by the time we reached our hotel.
It was a long and tiring day for us but thoroughly fun-filled and memorable 🙂
No. of times viewed = 0