After lunch at the celebrated Thean Chun kopitiam, followed by a walk down the famed Concubine Lane, we went on a jaunt around Ipoh city, with no specific destination in mind. There were 9 of us in the MPV.  Whenever we're back in Ipoh together, hubs and I love going for a spin in the car traipsing the roads of Ipoh to see what's new in town and to go down memory lane in our beautiful hometown.
After buying pomelos at Tambun, I casually mentioned to the hubs that since March this year, entrance fee into the Movie Animation Park Studios (MAPS) in Meru has been free. And he said OK, why not have a short visit to MAPS then since we are now on holiday and there's nothing to rush?! The girls were thrilled! What was supposed to be lunch has now turned into a fun-filled half-day adventure at a theme park. We were all so NOT prepared, wearing only slippers and sandals with no sunscreen lotion and all.
Poised as Asia's First Animation Theme Park built at the cost of RM520 million in Ipoh, Perak, Movie Animation Park Studios (MAPS) was set to be the most exciting dream destination for everyone.  With over 40 attractions in 6 thematic zones, MAPS was opened in 2017 with an initial entrance fee of over RM100 per pax.  Due to the choking entrance fee and the fact that not all the attractions are opened yet, the turnout was tepid, resulting in the entrance fee being scraped off effective March 2019.  However, you'll need to buy coupons for all the rides in the theme park.
On the day that we were there, which was a Sunday, we had expected a mad crowd like Sunway Lost World Of Tambun. But there was surprisingly no crowd. Just  moderate number of visitors but not crowded. If you've been to Universal Studio Singapore and you've given it a 5-star rating, you can expect to give MAPS a 3-star rating. This is a place where you'll only give it a one-time visit unless all the attractions are open and unless it's more 'lively'.  The place is very clean and spacious but it just lacks the animation, vigor and oomph factor.
The very first ride that attracted the girls when we walked into the theme park was the electric bike.  At RM15 for 15 minutes, the girls went on the electric bikes many rounds. But for noob electric bikers, the girls found it hard to maneuver the bikes initially.
Koong koong teaching Sherilyn where to place her foot on the bike when she first shared the bike with Alycia.
They just couldn't balance themselves on the bike and finally they got a bike each and problem solved!

Sherilyn performs a hand stand in front of the upside down building.
The girls and I got excited when we saw Tealive in the theme park!  Boba tea (sans the pearl jelly for me) is one of my guilty pleasures currently 🥤😉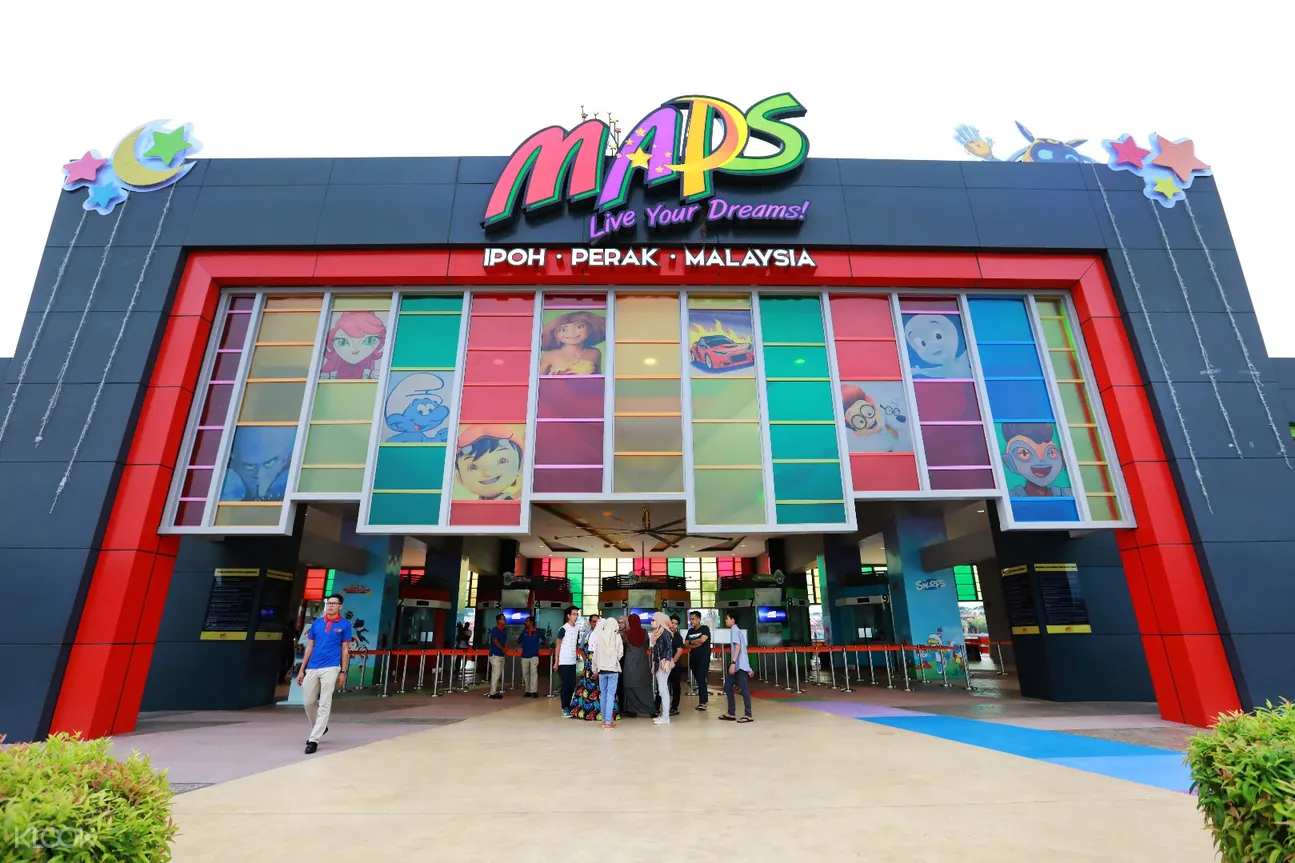 Our RM150 worth of coupons were not fully utilized though the girls went on umpteen number of electric bike rides, roller coaster rides, fun rides, bumper car ride, game stalls, etc and we had to give away the unused coupons to two lucky visitors  when we left the park. Again, we were caught in the rain towards the evening and had to leave abruptly. This seems to happen to all our theme park visits from Ocean Park Hong Kong to Sentosa Island Singapore, Gardens By The Bay Singapore and Lost World of Tambun!  It just had to rain on our parade every.single.time. 😟
No. of times viewed = 56