KidZania Kuala Lumpur is an interactive edutainment centre where children can experience the world of adults in a replica of a real city. There are various role-playing activities specifically designed to aid physical and intellectual growth. Kids have a choice of over 100 different professions in more than 60 different establishments. Be a surgeon, a fire fighter, a journalist, a pilot, a mechanic, a model, a doctor, a painter, a radio DJ and an actor, among others.
The first time that Cass went to KidZania was 1.5 years ago when she was invited by her classmate to her 9th birthday party. After spending half a day at KidZania and earning lots of kidZos, Cass fell in love with the place and was reluctant to go home.  From time to time, Cass still pesters me to bring her to KidZania Damansara so that she could try her hands on other 'jobs' that she did not have the time to try the previous time and to utilize all her kidZos.
I found a ticketing platform that I can get cheaper KidZania online tickets, at Tripcarte.Asia.
Tripcarte.Asia provides cheap Kidzania tickets and interesting Kidzania promotion to be enjoyed by all.
What I like about Tripcarte is that they have a FlexPlus ticket system where no reservation is required and you can go to your purchased destination at anytime (any day and any time of open hours) and don't have to get tied down to rigid schedules.  This system suits me perfectly well as my hubby is always tied down with work and can only confirm his availability at the eleventh hour.  Because of this, it is always hard for us to buy tickets to visit places. With FlexPlus, I can purchase the tickets first and the tickets are valid for 6 months. If we decide to cancel our visit plan, we can get a guaranteed refund!
On the day of your visit at KidZania or to any destination, all you have to do is present a QR code (which you'll get instantly via email after payment) at the online ticket counter and walk right in with no hassle of printing out the tickets.
Isn't this ticketing system the best? It suits busy parents who cannot confirm on the date of their visit.
All parents are welcomed to experience the best of Tripcarte's Kidzania Malaysia Promotions 2019 as this attraction is labelled as one of the best kids activities in KL.
Do share Tripcarte with your friends and family members. They will definitely love this hassle-free and worry-free ticketing system.
No. of times viewed = 17
The Montessori approach to education views children as natural learners who are eager to acquire new knowledge from an early age and who benefit from a supportive learning environment. Numbers have a very practical application in a young child's life, so many Montessori math materials focus on helping children make the mental leap from the world around them to the realm of the abstract.
Montessori Math Beads
Maria Montessori, the Italian physician who first formulated the educational philosophy that bears her name, theorized that children were developmentally ready to start thinking of math in abstract terms around the age of four. Children do need learning materials, however, that will facilitate the leap from concrete reality to abstract thought. One of the these learning materials Maria Montessori developed are the Knobbed Cylinders.
The Knobbed Cylinders are designed to help young learners learn how to discriminate between math-based concepts like width, height, weight and size. At first, children discriminate between dimensions visually, but as they grow more adept with the cylinders, they begin to differentiate between them on the basis of touch.
Other Basic Montessori Mathematics Materials
Many mathematically based concepts that seem intuitive to adults are actually learned concepts. Montessori mathematics materials build upon other to enhance children's understanding of these concepts and to increase their confidence in making the required distinctions.
• Red Rods: Red Rods are designed to refine children's visual understanding of length. Working with Red Rods enables children to discriminate between short and long.
• Number Rods: Number Rods look a lot like Red Rods except that they have alternating blue and red segments. They provide an introduction to counting because children build with the Number Rods just as they did with the Red Rods, but counting is associated with the number of different colored sections on the Number Rods.
• Golden Beads: Golden Beads, which are sometimes called Montessori Math Beads, were designed to provide children with an introduction to the decimal system. By moving beads to different mats and boxes, children begin to grasp unit categories such as tens, hundreds and thousands, and to learn how those categories relate to one another.
No. of times viewed = 20
As a parent, it is essential for you to ensure that your child's teeth are well taken care of. Compared to adult teeth, a child's teeth are much more prone to fractures and cavities. That is why it is very important that children be taken to see a pediatric dentist for their dental check-ups a minimum of twice a year.
Pediatric dentists have undergone specialized training beyond general dentistry to learn how to specifically deal with children's dental needs. They have the qualifications and experience to care for a child's mouth, gums, and teeth from infancy through the teen years.
The following are some useful tips to help you choose the best st johns county pediatric dentist for your child:
Certification And Qualifications
A pediatric dentist should have completed a Pediatric Dentistry course from an accredited dental school.
Licensed
A pediatric dentist should hold a license that allows her or him to practice dentistry within your state. Your state board issues and approves professional dental licenses. Licenses and certifications of dentists are usually displayed within the dental clinic's reception area. You should always make sure to have proof that a pediatric dentist is licensed.
Good With Children
It is very important to find a pediatric dentist who has good behavior management skills and knows how to deal with children in a friendly and professional manner. The dentist should greet your child with a warm and friendly smile and be patient and understanding throughout the entire dental procedure to ensure that your child feels safe and well cared for. Going to the dentist does not need to be a traumatic experience for your child if they have the right dentist who understands their needs and fears.
Location
Another important consideration when choosing a pediatric dentist is the location of their dental office. You are more likely to keep your appointments when they are in a convenient location. This also means less time in the car for your child.
Knowledgeable On Updates And Procedures
Your pediatric dentist should be knowledgeable on the various procedures for treating child teeth. He or she should be able to perform all routine dental care and also be experienced and well-informed on more complex procedures as well.
No. of times viewed = 14
On the 9th day of the new year, more than half the households in our neighborhood was plunged into total darkness that lasted over 7 hours.  I found out from the Management office today that the power outage was caused by an explosion at the TNB station in Puchong which affected thousands of houses.
The power outage started at 9-ish p.m. and electricity was only restored at 4-ish a.m. today. The outage happened on one of the warmest nights this year. Our country is currently experiencing a heat wave caused by tropical storm Pabuk.
It was  double whammy for me that night. When the power outage hit our condo, I was about to step out of the house to fetch Drama Queen back from the tuition centre.  What impeccable timing! I had to walk down five flights of stairs alone in half darkness, save for a torch light on my hand and the emergency lights which were not bright enough.  The car park was in total darkness and even the  light from my torch light wasn't bright enough for me to find my car. Imagine yourself walking in pitch darkness alone without a single soul in sight at the stairway and car park! 💀 👻 👽
Alycia had to complete her homework in the dark, with a torch light in hand.
Cass was thrilled to death over the power outage as she could move around the house with candles, as if she was camping in a jungle at night. She didn't want the power to come back. The silly brat thinks that it's fun to move around with candles and to sleep with all the doors  and windows in our house opened to allow the breeze in. I had to sprawl on the bed like a starfish as it was too hot and I only managed to get a couple of sleep until all hours of the day and night. Hubs slept on the cold hard floor in the living room.
This morning, I found this partially burnt paper on the dining table. It looks as if someone had been curiously and sneakily burning papers into shapes while everyone else was in bed the previous night! 😱
No. of times viewed = 11
What makes a woman happy? To me, I am happiest when I am healthy, beautiful and youthful looking. At almost 46, I still get remarks all the time that my looks defy my age  😊 I am ever so thankful for being blessed with youthful looking skin and looks.
Many different ingredients are touted to make you look younger. But buyer beware! Only choose products with ingredients that have been shown to make your face soft and younger looking. Choose skincare products that contain natural ingredients such as retinol, a vitamin A compound and antioxidant, vitamin C, a powerful antioxidant that helps protect skin from sun damage and green tea because of its antioxidant and anti-inflammatory properties.
Here are some of the ways to get younger-looking skin:
Eat your way to fabulous skin
Beautiful skin starts with nourishment from within.  Eat five portions of fruits and vegetables every day. Eat enough vitamin C, healthy fats, vitamin E, selenium, omega-3 and zinc to boost skin health.
Avoid the sun
The most proven way to look younger is to avoid the sun. The sun is not your skin's good ally. Exposure to the sun's UV rays is the primary reason for skin aging. Wear a good sunscreen if you are going to be exposed to the sun. Sothys carries sunscreen products made with active ingredients from plants, suitable even for sensitive skin.
Get enough sleep
The whole idea of beauty sleep is not a myth. Your body needs time to restore itself overnight and that includes your face, too. While you sleep, cells are busy repairing DNA damage from the day before, so snuggle down and give them a chance to get on with it. Try to get at least 7-8 hours of sleep each day.
Drink plenty of water
Try to stick to the general rule of 8 glasses of 8 ounces plain water each day. It won't hydrate your skin directly, but it will improve the way your insides work and good gut health is soon reflected in glowing skin.
Exercise regularly
Whether it's walking the dog, brisk walking, running, cycling or anything that gets you moving will improve your circulation. That in turn will encourage blood flow to the skin and help give it a healthy, youth-enhancing glow.
Do not smoke
Smoking causes damage to the collagen and elastin, weakening the skin and resulting in sags and bags. Women who smoke at a young age will notice sagging skin and premature wrinkles long before their nonsmoking peers.
Add an antioxidant serum to your daily routine. 
Consider these free-radical-fighting formulas your gateway to anti-agers. UV light is still able to inflict damage on your skin even if you're wearing sunscreen but if you layer a serum containing antioxidants, such as vitamins C and E, underneath your SPF, your skin is more likely repair the damage as it occurs, preventing the onset of brown spots and fine lines prematurely.
Never go to bed with makeup
Always thoroughly remove the day's buildup of makeup, sunscreen, and sebum from your face before going to bed.
Use a sleep mask
The latest beauty trend, the sleep mask, is worth using if you want to wake up to a more radiant complexion!  NO2CTUELLE Chrono-Destressing Sleeping Mask from Sothys is a good choice as it contains stabilized Vitamin C, detoxifying complex, yeast extract, Shea polyphenols, among others active ingredients.
Steam up your boudoir or use a diffuser
If your skin tends to be dry, using a humidifier of diffuser at bedtime can help keep it hydrated and supple. This is especially important during the winter, when cold, dry air saps moisture from your skin. But since air conditioning can also dry out your dermis, adding moisture to the air via a humidifier or diffuser with skin-loving essential oils can help keep skin glowing in summer too.
Always sleep on a clean pillowcase. 
Your skin can pick up dirt and bacteria, traces of makeup, dead skin cells, saliva, and hair product residue from a pillowcase that hasn't been washed.  So wash your pillowcase once a week to avoid a buildup of these pore-clogging substances.
Don't binge on junk food, bin them!
I am not talking about enjoying the occasional chocolate brownie, caramel popcorns and bag of chips. If most of your calories are coming from snacks and carbs, your skin is going to pay the price. More studies are pointing toward carbs as the bad guys for skin. Sugar, white bread, pasta, cake, and candy may speed up glycation in skin. Glycation is when sugar molecules latch onto cells, including those in skin, and cause them to become malformed and accelerate the breakdown of collagen. What you see in the mirror: loss of radiance, more noticeable lines, and skin that doesn't look as supple. Overdoing it with carbs and dairy has been linked to acne as well.
There are a bundle of things that you could do for your skin to ensure that this largest organ of your body stays glowing, radiant, dewy, luminous, smooth — pick your adjective! The tips above are not exhaustive. Some degree of effort and sacrifices are needed to produce healthy looking skin.  Once you make changes to your diet, don't expect an overnight miracle. It takes six weeks for new skin to emerge up to the surface, so the visible benefits from dietary changes will take just as long. Try sticking to a healthy lifestyle and diet and use a good range of skincare products. Your skin will be enviable to everyone in no time.
No. of times viewed = 15
My first compliment for the year 2019 came on the forth day of the new year. 😁
I went up to the gym to check on Alycia and Sherilyn who were in their kickboxing class when they did not pick up my call and were over half an hour late from the stated dismissal time.
When I was at the gym, the cute coach asked me "You want to fetch them back now? I am giving extra lesson today. Are you their sister?"
I gave the cute coach a stunned look and he said "are you their mother??"
🤣
That was one of the sweetest compliments, coming from a young and cute dude.  This remark / compliment is not new to me though.  I've received comments from dirty old men that I have a physique of a teenager, which made me float fleetingly but the manner in which they complimented me made me want to puke and lose respect towards them instantly. 🙄
Alycia's first kickboxing class on 4 January 2019.  Sherilyn's third class. Cute coach is the one in red shirt.
Alycia loved it  but was enervated coz that girl worked out at our condo gym for over an hour before her  kickboxing class, not knowing that kickboxing would be that rigorous and physically draining.
Now the girls are asking me to get them new hand wrap and gloves as the ones at the gym stink and are damp and disgusting.
#trainingtobekickboxingfighters
😂
No. of times viewed = 20
My baking queen's last bake for the year 2018 on 31 December 2018 was a hyper-delicious pomegranate cake, cafe style, complete with decor.

It's pretty unbelievable that a 13-year old baked this!
When Sherilyn was much younger, I had suspicion that she had ADHD as she was always hyper-active (and kept getting herself into accidents till I bought an accident insurance for her when she was 1 year old), didn't need much sleep (even up to this date!) and could not focus in her studies. We were always in loggerheads simply because she was bull-headed and so am I! She loves to answer me back whenever I say that she's stubborn by snapping this remark at me "whose genes do you think I have?"
When Sherilyn was 10 years old, my suspicion was quelled. She baked a gluten-free strawberry cake for her granny's 70th birthday, all on her own. And then she googled many other recipes and baked tons of other stuff. My all-time favorite is her meat pie.  That was when I saw how focused she could be when she was doing something that she loves.
Ok, back to this hyper-yummy pomegranate cake!
Sherilyn spent over 5 hours on the cake. She had wanted to bake the cake on 30 December, i.e. on the actual day of her dad's birthday to surprise him but we were out the whole day and I had to stop her from baking.  Thus she baked it as a belated birthday cake for her dad the next day.
This cake is truly very pomegranate-ish.  Every bite of the cake has fresh, juicy rubies of pomegranate in it.  Even the cake batter and butter icing have pomegranate juice in them.
The pastel pink butter icing is composed of white chocolate, pomegranate jam (which she made a week earlier), butter and sugar.
Pomegranate jam made using freshly juiced pomegranate rubies, lemon juice and a little sugar:
The chocolate cake is coated with a layer of dual pastel colored butter icing, which she used blue pea flower for the blue and pomegranate juice for the pink.
She baked three cakes using organic cocoa powder, sliced the cakes into half and stacked them up to a taller height. The cakes are sandwiched with dark chocolate butter cream.

Mixing the blue pea flower colored water into the butter cream:
The chocolate wings for the decor are made from frozen melted dark chocolate:

This cake tastes 100% like one bought from a fancy schmancy cafe.  Even after 3 days when we ate it today, it still tastes good.
Even her hyper-critical foodie dad said the cake tastes "OK la".  When this comment comes from him on anything that we bake or cook, this means it's GOOD.  When he pushes the food aside and said "lousy or no good", it means it is still good but not up to his hyper-high standard la. 🙄 🙄
Even Alycia who is always hyper-critical of everything that Sherilyn cooks or bakes commented that the cake tastes like some cafe-bought cake but said that the decor needs some improvement if she has intention of selling her cakes 🤑
I give my baking queen a 9/10 rating for this cake 😍.
She's really on her way to selling her cakes and bakes very soon! 🤑
No. of times viewed = 16
It's the last day of 2018 already? I can't believe how fast the year zoomed past us like a bullet train.  Time is really like a thief!  How I wish I could freeze all those good times.  This year has been pretty good to me and my family. Health-wise, all started well until the very end. I am now down with flu, a bad throat, a throbbing head and lost my voice. Throw in an eye flu (Conjunctivitis caused by the flu) today and I am quite down and out. We were supposed to meet up with our besties again in Klang for seafood dinner but we're going to have to be stuck in our neighborhood, having a simple dinner (with no fried, spicy and oily stuff) at our usual tai-chow Chinese restaurant.  The birthday boy bought Musang King durian last night to treat himself and all I could do was to watch everyone in the house savoring and licking the fruit 😷
All I want to do now is to climb into my bed, do nothing but have an uninterrupted sleep until 8 tomorrow morning. Forget about counting down and all the merriment welcoming the new year. Sleep is all I need now to heal. Tomorrow will be the last day  I get to sleep in.
I am glad that school is starting again. My exercise regimen resumes and I get back my sanity and my me-time at home when the girls are in school. The only thing I miss about school holidays is my 2-3 hours extra sleep each day.
Today I took the big girl for an eleventh-hour hair cut, then the both of us had Korean again for lunch. We had dinner at the same restaurant 3 nights ago, with my parents. This girl can never get bored of K-food, K-pop and everything K.   While she digs into her Kimchi, I had steamed egg in claypot and downed a bottle of green smoothie.
I saw this cute little New Year note on Facebook  today and thought I'd share it with you (edited):
To all my lovely blog readers,
The Boarding on Flight 2019 has been announced!  Hope you have checked in only the best souvenirs from 2018 in your luggage?
The BAD and SAD moments if carried, must be thrown away in the garbage on arrival!
The flight will be for 12 months long.  So, loosen your seat belts, jingle and mingle.
The stop-overs will be :
✳Health,
✳Love,
✳Joy,
✳Harmony,
✳Well-being
✳Peace.

Refueling will be at
👍Giving
👍Sharing
👍Caring
👍Forgiveness
The Captain (God) offers you the following menu which will be served during the flight…….
✅ Cocktail of Friendship,
✅ Supreme of Health,
✅ Grating of Prosperity,
✅ Bowl of Excellent News
✅ Salad of Success,
✅ Cake of Happiness,
All accompanied by bursts of laughter…
But remember, you will enjoy these meals and the journey better if you talk, share, smile and laugh together. Sitting silent and sullen will make the flight seem longer.
Wishing you and your family 👪 an enjoyable trip on board of flight 2019…..
💥✨💫💃🏃👫💑👯❤💖💌💍☔⛄🌊🌈🌁🌴🌹🌷🍀
Before the Flight 2018 ends,
Allow me to thank each and every one of you reader who takes the time to drop by my blogs, whether it's just for a minute or a few seconds just to catch up on the happenings in my life, whether it's just once a week or month. The fact that you checked on my blogs makes me feel loved. It makes the maintenance of my 11-year old triplet blogs all worthwhile.
I hope that you all will be blessed with an awesome and healthy year ahead.
😘😍💝🎁🎊🎉🎈
Love and joy,
Health Freak Mommy
xoxo
No. of times viewed = 37
The dreaded day came. This 'Puteri Lilin' wasn't really looking forward to bringing the kids to outdoor theme parks in our hot Malaysia weather. Hell no!  It's a totally different experience spending a whole day at Disney Land or Ocean Park in winter vs. a whole day under 38C scorching sun in Malaysia.  But it's the school holidays and I can't be a party pooper. And we had promised the girls that we would bring them to the Lost World of Tambun.  So we got up early on our Sunday morning in Ipoh, had a quick breakfast and packed our 3 girls along with my niece into the MPV and off we went to Sunway Lost World of Tambun.
But on a Sunday during the school holidays on the eve of Christmas eve? We're in for trouble!   We waited for almost an hour just to get the tickets! The crowd was just CRAZY! And it was hot! Double whammy for the 'Puteri Lilin'!
The hubs got us the X-press ticket on top of the regular ticket to enjoy shorter queue and free access into the Haunted Chambers and Adventure Park's Zipline.
For X-press tickets, there were staff to help us wear the wrist tags!
As you can see from the photos,  it was really scorching HOT on that day.  The 2 older girls went gallivanting together and went on every ride at the theme park.  Hubs, my niece, Cass and I went on the Viking boat ride only, which wasn't really that terrorizing as the one that hubs and I went on at The Mall's indoor theme park yonks ago. Nonetheless, I got a tad woozy after the ride. I can never get on a roller coaster or any similar ride without getting a dizzy spell afterwards as I have motion sickness.
At one of the souvenir shops, which is the very first place that visitors step into upon gaining entry into the theme park:

Cass was eyeing a brown monkey plush toy at the games stall and she begged her doting dad to win it for her!

Notice Cass' hair under the sunlight? It's almost blond and it's natural!

You think daddy won the monkey for Cass?

Sure he did! He's a sharp shooter basketball player!  Cass was SO happy!
Tsk tsk, daddy spent almost RM30 on tokens just to win the monkey for his princess!
The only problem was Cass had to lug the fury stuffed animal on her shoulders and back the entire day we spent at the theme park! And it's like putting on a fur coat over your shoulders under the 38C sizzling sun! At the end of our excursion, the monkey was drenched in sweat and rain water.  Cass had to hand-wash her precious monkey when we got back to KL 🤩
We had hamburgers (photo not taken), fried chicken and fries for lunch, purchased at the amusement park. Food was totally disappointing and yet expensive, especially the burgers and fried chicken. The fried chicken smelled foul (like the odor of rotten chicken!) and we discarded 2 pieces.
Outside food is not allowed into the Lost World of Tambun. At the entrance, all your bags will be checked by the personnel and outside food will be confiscated and returned to the owners during exit.  Water bottles are allowed though.
The next time we visit Lost World, we would have our meal at the Dulang Tea House @ the Tin Valley instead. I think the food sold there is more decent than at the amusement park.
After lunch, we covered the Tiger Valley, Haunted Chambers, Petting Zoo, Tin Valley and Zip Line. The Haunted Chambers was surprisingly pretty spooky. My just turned 7-year old niece was so terrified that she clung on to me and Cass.
Petting big, fury and cuddly cats at Catopia. These cats are housed in an air-conditioned room. Such good life these cats have!

Alycia did not enter the Catopia enclosure as she has Ailurophobia aka fear of cats. Yup, I only recently found out that she's terrified of cats coz whenever we are out eating at an outdoor place and if a stray cat comes near our table, she will start to put her legs up on the chair 😞. Not only does Alycia fears cats, she does not like any kind of fury animals too. Weird, as I love fury animals and so do Sherilyn and Cass! Thank God Alycia does not have a phobia of cockroach coz Cass and I are horrified of it and we need someone at home to help us catch them cockroach. 😬
Next was Swan Lake, which is next to Tiger Valley. Here, you and a partner can lazily paddle the darling swan boats around a lake. Fishes aside, we saw a crocodile in the lake too!
Feeding fish at the Swan Lake. Fish feed can be purchased at a Ringgit a packet.

While the girls paddled lazily under the burning 3pm sun, I sought shelter at a small hut meant for storing life jackets, next to the jetty, dabbing sweat with a towel and wishing that I could leave soon  🤭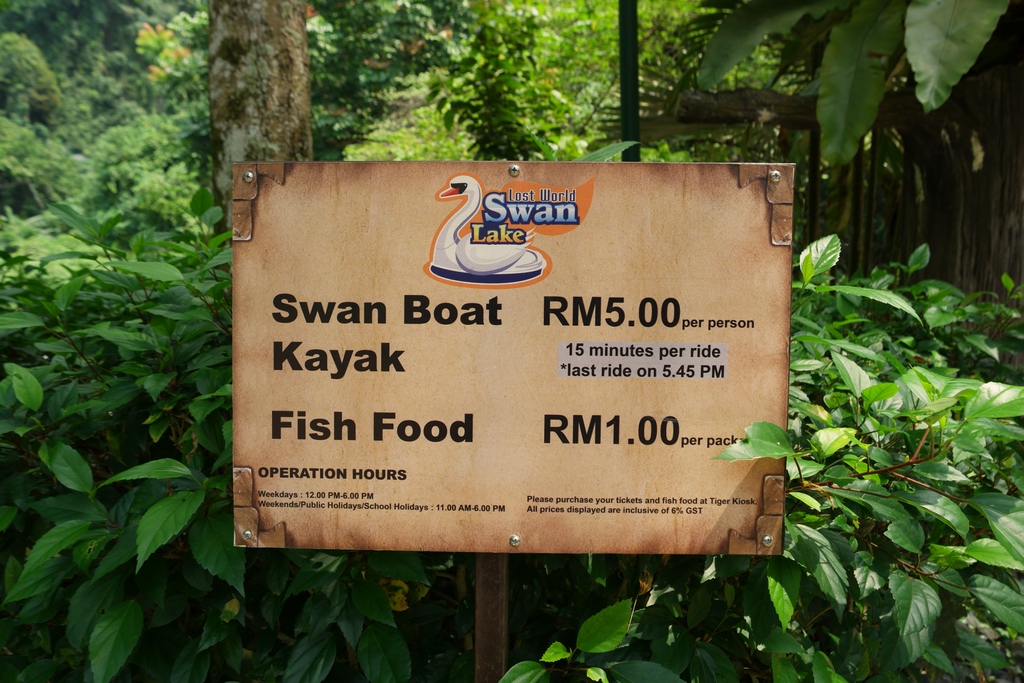 After the swan boat paddling, everyone was sweating bullets. We walked to the Tin Valley and petting zoo. By this time, the sun had gone down a little and the weather was much more bearable. We love this part of Lost World the most. The scenery of natural limestone hills and greenery is just breathtaking.
Feeding carrot sticks to deers:

Up-close with Juwita the giant female hippo and a humongous crocodile:
The highlight of the excursion for our girls was at the adrenaline-filled thrilling Zip Line at the glamping site.
Tents under trees at the beautiful glamping site:
At the Zip Line site:

The last part of our excursion was at the petting zoo but it had to be truncated as it suddenly poured cats and dogs. We had to run into a souvenir shop to seek shelter from the rain. When there was no sign that the rain was going to stop, we had to buy an umbrella.
By the time we reached the entrance of the park, it stopped raining! Dang it!  It was already 4pm and everyone was tired, so we left.
The girls, especially Cass enjoyed themselves very much.  The park is pretty well maintained and naturally beautiful with lush greenery, limestone hills and soothing background. Even my very persnickety hubby had positive things to say about the park.
Will there be a second visit? YES!  This time, we will go in the evening to cover the night park, night safari, luminous forest, hot springs & spa and exhilarating Flaming Percussion show. This time we missed the hot springs & spa, which is the place that I looked forward to the most because of the dang rain, which really did rain on our parade and ruined our visit.   We'll definitely be at the Lost World of Tambun again and this time, only in the evening. We can skip the amusement park and the sun.
No. of times viewed = 18
I can't stress enough how important it is for everyone to have insurance in their life, whether it is medical insurance, car insurance, fire insurance, natural disaster insurance or life insurance.  My insurance companies have taken care of my bills far too many times and had I not purchased an insurance in the first place, I would have to pinch from my savings to pay for these bills caused by unforeseen circumstances.
Some people believe that they can save enough money to replace their assets should anything happen to them. The problem is that, in most cases, the expenses incurred after an accident, the death of a loved one, or a disability are beyond any savings or wealth that a person may have accumulated and it is for this reason that insurance is such an important component of your financial planning.
When I accidentally crashed my new car into an office building yonks ago, thank God my car insurance paid for the entire bill of my car repairs and that of the office building.
Twelve years ago, our erstwhile insurance agent forgot to renew our insurance for natural disaster when it was due. And as fate had it, our house was hit by a terrible flood that swept through the entire neighborhood. Both my car and my hubby's car were submerged in flood waters. The entire ground floor of our house was submerged in flood water up to my waist. We spent almost RM50,000 to repair our cars and house. And not a single sen was claimable because our dear forgetful insurance agent forgot to help us renew our insurance! Had it been renewed, we could have saved so much money.
Anyway, let bygones by bygones.
What I'm trying to say is that if you have not purchased any insurance yet for your car, your assets and your life, please do so before it is too late.
Not sure how to get started? And you do not wish to approach a persistent insurance agent who sends you a hundred messages a day?
No worries. You can do it discreetly online at Sureplify.com. Sureplify is an online comparison platform that helps consumers search for the best insurance plans in cost and time-saving.
Sureplify specializes in motor insurance. Their products include car insurance, term life insurance, foreign workers insurance, road tax renewal / delivery and JPJ backlist.
Sureplify features their best real-time pricing which allows users to compare insurance in terms of pricing and benefits from all of the top insurers in Malaysia (Etiqa Takaful, Tune Protect, Lonpac, AXA & MSIG), in just seconds.
Insurance is the right thing to get for yourself and your assets. If you do not have any yet, you should seriously consider getting one now.
No. of times viewed = 14
Drama Queen and Cass have been badgering hubs and me to bring them to the 2018 Big Bad Wolf (BBW) book sale since the sale started on 7 December.  BBW is the world's biggest book sale, with a 75% – 95% discount off retail prices for all their books across all genres. But I was reluctant to bring them to the sale as I have bought the girls quite a bit of books since the school holidays started from Popular and MPH.
But our Drama Queen had a crafty plan cooking in her head to get herself to the sale.  First she got her friend who was going to the BBW sale to help her get some books. With that, she qualified herself to take part in the BBW KL 2018: Book Haul Contest.  In this giveaway contest, 20 daily winners with the most creative entries (photos) will get a RM50 BBW book voucher.  Our Drama Queen submitted two entries on the last 3 days of the BBW Sale and both her entries were selected!
These are her winning entry photos:
When Drama Queen won the first BBW RM50 voucher, I told her that I was still not bringing her to the sale. I told her that it would be penny wise pound foolish to spend over RM50 on Grab to bring us to MIECC  @ Sri Kembangan just to utilize the RM50 voucher and I was certain that she and her sisters would surely trick me into spending another RM100 or more. But she wasn't giving up hope yet. She submitted more entries the next day and continued badgering me to bring her to the sale.  I finally agreed to bring her to the sale on condition that she has to win another RM50 BBW voucher to make our trip worthwhile.
Lady luck was certainly on Drama Queen's side. She won another voucher the next day, which was the last day of the sale! And I have to keep my words of bringing her there.  But I was still really reluctant to go all the way to MIECC as it was already past noon when the results were  announced. And at that time, our dear Drama Queen was busy in the kitchen whipping up some organic nutty butter (Almond+Brazil+Cashew) as gift for her granny when we go back to Ipoh on Friday.
Drama Queen encountered a glitch with our Blendtec blender whilst blitzing the nuts on the last day of the BBW sale. The blender got overheated and auto-shutdown! And we didn't have enough organic grapeseed oil at home.  She had to remove the nutty paste from the blender, let the motor cool down, clean up the mess the kitchen  before we left the house by Grab at 5:15 p.m.  She only managed to fix the nut butter the next day.
In KL, any time from 4:30 – 7 p.m. would be the worst time of the day to go anywhere as traffic will be at its peak. But we had no other choice as it was already the last day of the sale and it would be a waste to bin the two RM50 vouchers.
So I had to take the bull by its horns and be prepared to get stuck in the jam all the way to MIECC and all the way back home.  We only reached home at 8:30 pm and had a really late dinner.
Jamming all the way to MIECC from KL:

And jammed all the way back home after a heavy downpour. In the Klang Valley, traffic gets monstrous after a heavy downpour, especially at peak hours in the morning and evening.

Two very, very happy larks:

Checking their treasure. Our girls love their books more than they love me 🙄

Towards the checkout counter, Cass found a big piece of treasure ~ a super thick and huge Sherlock Holmes book at only RM18!!  Normal price for this book should be above RM100.

The BBW Sale this time was really good, better than the one we went to three years ago.  All the adult novels were selling from between RM10 – RM18 each.  Drama Queen and Cass found what they were looking for.  But Cass was a tad disappointed that all the Harry Potter books were sold out. I got workbooks for Cass at only a Ringgit each. I could have hauled more but it was already late and we were all hungry.
Behind the scenes of the winning photos:


As both Alycia and Cass helped in the photography, they get a small share of the vouchers too! 🤩
No. of times viewed = 13
If there is one item in my bedroom that needs getting rid of and be replaced with a new one, it would be our mattress. Our mattress is over 18 years old and has a good lining of pee, poop, puke and just about any other bodily fluid that one can think of. This said, our mattress gives us fond memories of the good times that we had co-sleeping with our 3 girls when they were babies.  However, when I think of the amount of germs and bacteria co-sleeping with us now (minus the babies), I freak out!
I keep procrastinating getting a new mattress. The thought of moving the gigantic king-size mattress out of our squeezy room to have it replaced with a new one turns me off.  Plus I hate going from shop to shop to try out mattresses.  I recently found a company that lets you order your mattress online and lets you try the mattress for 100 days, risk-free!
I guess the time is up for our mattress to go next year. Getting a new mattress for my bed will be one of the items to tick off in my New Year Resolution next year.
Before you get a mattress, it would be good if you do a little research to find out how to get a mattress that suits you that's value for your money.  Here are some of the tips:
1  Research online before going shopping.
2  Consider a non-toxic mattress.  Studies have shown that some people with autoimmune conditions, such as rheumatoid arthritis and lupus, experience flares when they are exposed to household chemicals. Mattresses can give off a strong chemical odor and may contain several toxic ingredients including:
plastics, foam, and synthetic latex, which are usually made with potentially harmful petroleum-based chemicals
flame-retardant chemicals
Since those materials may exacerbate pain, many people with chronic illnesses prefer to sleep on a nontoxic mattress.
 3  Take the mattress for a test drive. When shopping for a mattress, try to lie on the mattress in the store for at least 5 to 10 minutes. Don't feel self-conscious or let the salesperson hurry you along. It's a big purchase, and if you don't try it for at least 5-10 minutes you're not going to get a real feel for it. Couples should test out the mattress together.
4  Be aware that firm mattresses aren't always better for your back. Think twice before buying a hard or firm mattress, as some research has shown that the best mattress for low back pain is a medium firm mattress rather than a firm mattress.
5  Ask about comfort guarantees or trial periods before you buy. Always check whether the seller offers trial periods and guarantee before you buy, and be sure you understand the details, such as whether you're required to pay shipping, if it includes a money-back guarantee or exchange, if you must return the mattress within a certain time frame, etc.
Sonno offers a 100-night trial period and a 10-year guarantee on all their mattresses. Plus, they ship FREE within 3-5 days, compressed in a beautiful box. If you don't fall in love with your Sonno, the company will give you a full refund and pick up the mattress for free!
6  Check the warranty. A good mattress will have a minimum of a 10 year full replacement or non-prorated warranty.
7  Shop at a store that specializes in mattresses. The salespeople at a mattress specialty store usually have more training on the whole subject of mattress and sleep.
Why I am considering Sonno?
Sonno has been recognised by Superbrands Malaysia with Superbrands status after a strict selection process by Malaysia Superbrands Council. The brand produces high-quality natural latex mattress at an affordable price; which includes free shipping, delivery-in-a-box, 100-nights trial, and free return.
Sonno mattresses are CertiPUR US Certified, which means that they are:
✓ Made without ozone depleters
✓ Made without flame retardants
✓ Made without mercury, lead, and other heavy metals
✓ Made without formaldehyde
✓ Made without phthalates regulated by the Consumer Product Safety Commission
✓ Low VOC (Volatile Organic Compound) emissions for indoor air quality
Another feature I like is that Sonno mattresses are made without unhealthy pocketed springs. Metal parts act as a radiation antenna and this will amplify electromagnetic waves, which can be responsible for sleeping disorders and have even been linked to certain diseases. You don't want to be spending a third of your life lying in an electromagnetic field.
I am now very tempted to order a Sonno mattress online and try it for 100 nights risk-free! Sounds too good to be true, right? It's true. Take a look at the website to find out more about the Sonno mattress.
No. of times viewed = 7