And these are available right smack in my hometown of Ipoh, a few minutes drive away from my parents at an unassuming coffee shop named Kedai Makanan dan Minuman Taman Timur.
Whenever we are back in Ipoh, we, especially the hungry big man often gorge ourselves silly like a glutton. It's as if our metabolic rate went on an overdrive. I will put my army strict diet and exercise regimen on hold and sacrifice my svelte figure in exchange for some short-lived hedonistic pleasures.
Everyone in our family look forward to at least a pigging out session at this coffee shop. Our favorite delights are Hakka noodles, crispy Chinese pancakes, curry noodles and fish noodles.
The day before we left Ipoh, we had our cravings satisfied at this coffee shop – just the 3 girls and me.  We had these:
Curry noodles at only RM4.50 a bowl. What a steal and it's so yummy too. In KL and PJ, the cheapest for a bowl of basic curry noodles is RM6.50.

Hakka mee with fish balls and meat balls. I ordered 20 balls in the first round but they were not enough for my 3 hungry piranhas, so I ordered another 10 balls after we were done eating the noodles. It's pretty addictive popping the balls dipped with special chilli sauce and pickled garlic into our mouths.

The Hakka noodles stall: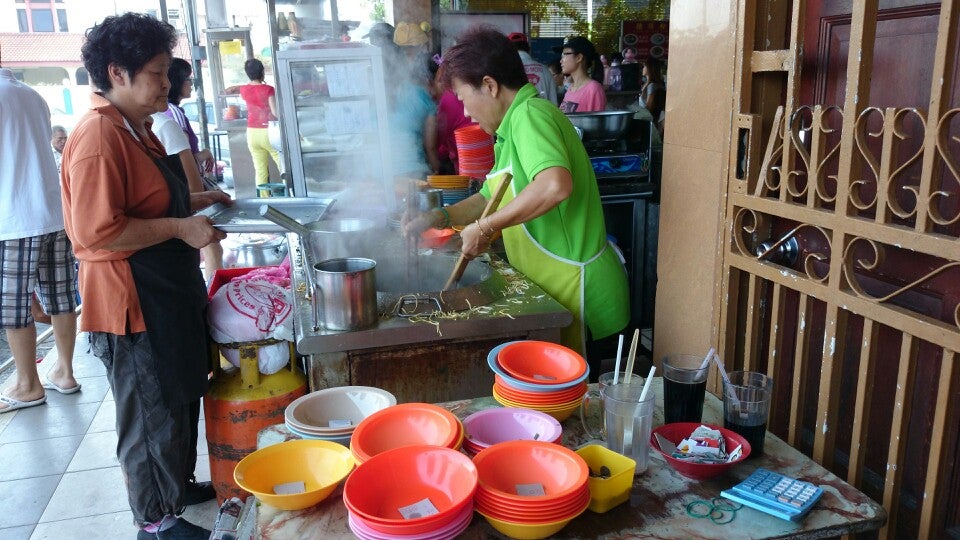 A trip back to Ipoh will not be complete for Alycia if she does not get to tuck into Tomy Crispy Pancake.  I ordered three types of pancakes in the first round and as expected, someone did not get enough of the pancakes and I ordered another 2 pieces minutes later.
Tomy Crispy Pancakes have super thin and crispy crusts with filling of crunchy peanut, grated coconut, fresh banana slices and melting corn oozing out at first bite. One bite will send you to paradise. *Swoon*
There are many other ingredients like cheese, egg, crabstick, ham, pineapple, etc. that you can mix and match to create your favorite pancake. The stall owner is a lady who has a slight resemblance of Hong Kong superstar Karen Mok. I'm not sure though if her name is Tomy.
This time we did not overeat. Neither did we have food wastage. Had we gone there with the foodie hubs, he would have ordered everything double or triple the quantity.
I can't wait to go back to Ipoh again soon to tuck into all our favorite hawkers delights.
No. of times viewed = 13
Please follow and like us: