After Cass' ultrasound scan at GMC,  hubs brought us to Sin Kheng Aun Hainanese restaurant for a lunch of all our favorite dishes.  Hubs and his entire family have been strong supporters of this restaurant for decades, tracing back to over 30 years of loyal patronage.
On our way to Sin Kheng Aun, I gobbled down about 6 or 7 pieces of Apong Guan in the car! It's my absolute favorite and my trip to Penang will never be complete without tucking into my favorite apong made by Ah Guan @ Burmah Road.
Gulai assam tumis with white pomfret fish. This is Sin Kheng Aun's signature dish and the crowd-puller, five-star dish.
Prawn kerabu (another lipsmacking house special – picture below), onion omelette, stir fried mustard green, chicken in black soy sauce, assam pan-fried prawns and  fried vermicelli — sorry no pictures taken as I was too busy enjoying the food.
Below – pan fried assam prawns.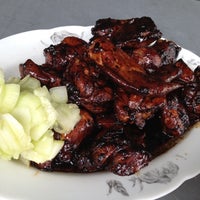 After lunch at Sin Kheng Aun, we walked a few shops away to Rainforest Bakery.  This bakery brings back fond memories of the healthy breads and delicious kaya that hubs bought for me during my 3-week stay with Cass at GMC seven years ago.
Rainforest's kaya is one of the best store-bought kaya I have ever tasted.  I got a tub and ate some of it on the spot like it was an egg pudding 😀
Then we walked over to Mugshot Cafe, which is adjacent to Rainforest.
Hubs ordered a smoked salmon bagel with cream cheese. Though we were already pretty stuffed right after our lunch at Sin Kheng Aun, we could still wallop this delish bagel sandwich.
The bagel sandwiches are reheated in a special oven heated up using wood fire before being served to ensure that it is crispy on the outer layer and fluffy on the interior.
Photo credits – what2seeonline.com
We also tried their house-made yoghurt with walnut and raisins, served in a glass jar.  Their yoghurt is thick and creamy and not too sweet. You can choose a variety of toppings for their yoghurt. There is a section behind this rustic cafe housed in a pre-war building where yoghurt is solely made.  There are also some hipster merchandise for sale at the back of Mugshot Cafe.
Below – an assortment of cakes that hubs ordered from Rainforest and brought over to Mugshot Cafe to be savoured.
Doesn't this little drama queen look like a waiting staff?  She's growing up way too fast!
Below – this is where we were seated at Mugshot Cafe…
Rainforest Bakery and Mugshot Cafe
300 & 302 Chulia Street
10200 George Town
Penang
Sin Kheng Aun
2, Lebuh Chulia
10200 George Town
Pulau Pinang
Tel:012 4056276
No. of times viewed = 18
Please follow and like us: