This is yet another food post, sorry, can't help it 😀   In our household, celebration and good food go hand in hand… coz I've got a foodie hubby who is in the food line and we've produced kids who obviously appreciate and love good food too!
Dinner on Mother's Day Eve yesterday was celebrated at Kazoku-Ai Modern Teppanyaki Kitchen @ 3rd Mile Square, Old Klang Road.   Distancing itself from run-of-the-mill, mall-based teppanyaki joints, Kazoku-Ai specialises in premium Japanese fare that's satisfyingly well-executed & reasonably priced.  This is our second visit to this restaurant – the first time being 4 months ago on hubby's birthday.
Shake sashimi – salmon belly was oh so fresh and yummy!!   A platter was just not enough to satiate me.
On the foreground is crispy and aromatic fried chicken on a bed of luscious Japanese potato salad – superb combo and delish.  This dish gave me an idea of what to dish out for the kiddos soon since it's pretty easy to prepare.  Sherilyn who knows how to whip up the potato salad can help me with this dish.
Grilled cod fish…
Teppan assortment of mushrooms and veggie combo…
Tempura Morinase, featuring deep fried prawns and veggies in Japanese batter…
Signature Maki and spaghetti Mentaiko…
Edamame beans…
Teppan combination seafood (scallops, prawns, fish, plump and juicy oysters and a bowl of crispy garlic).
The ever friendly and efficient owner gave this heart-shape sushi to us on-the-house as Mother's Day gift…
Signature Killer Brownie, served warm, with a scoop of vanilla ice-cream and whipping cream. Super addictive and sure way to kill your diet plan!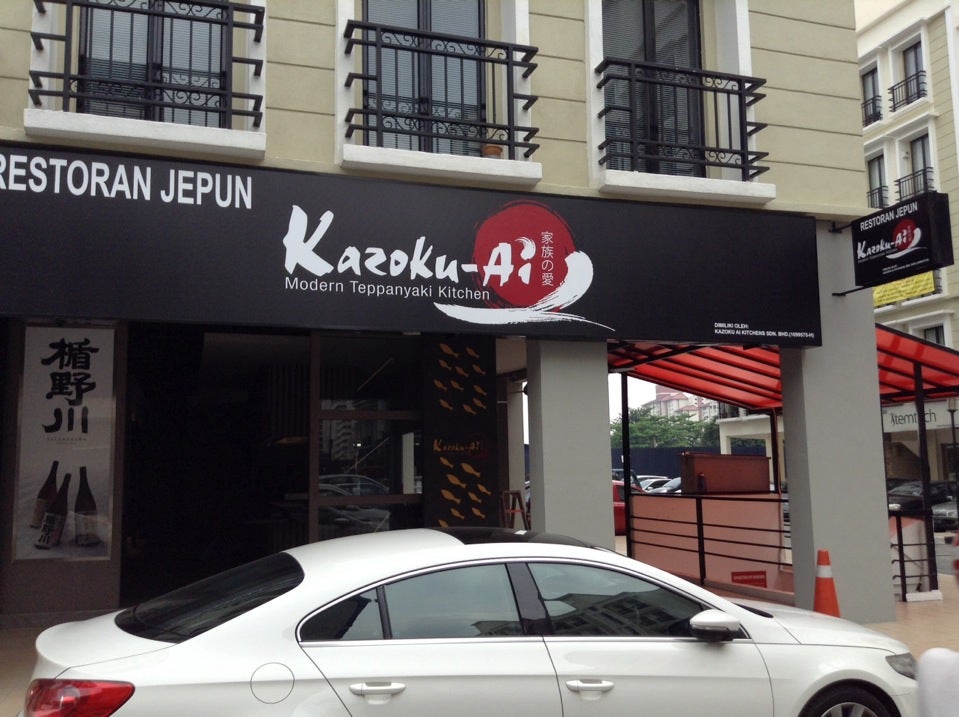 Kazoku-Ai Modern Teppanyaki Kitchen
3A-G, 3rd Mile Square (151 Old Klang Road), 58100 Kuala Lumpur, Kuala Lumpur, Malaysia
Tel: 03-7983-1919
The next day, on Mother's Day – which is today, we went on our food hunt again and came back to this place. This time, to Gyutaro Yakiniku for yakiniku (grilled meat) of course.  Kazoku-Ai and Gyutaro are located just a few steps away from one another. I shall blog about Gyutaro Yakiniku in a separate post.
Happy Mother's Day to all you wonderful ladies!  To my mummy dearest – happiest Mother's Day and wishing you a very blessed trip to Hokkaido with dad and Roy today. 😉