Our Uber driver came at 7:15 a.m. to fetch us to the KL Sentral Station to catch the 8 a.m. ETS to Ipoh.  Thankfully traffic was light and we even managed to grab some light breakfast snacks from McD to be eaten on the train.
I ordered a McD Bubur Ayam (chicken porridge) Happy Meal just because someone wanted the Rilakkuma toy that comes with the set.  I had qualms about the taste of the porridge but hey, it actually tastes pretty delish, with shredded chicken and condiments like fried onions and spring onions. Cass liked it too but she liked the Rilakkuma toy even more.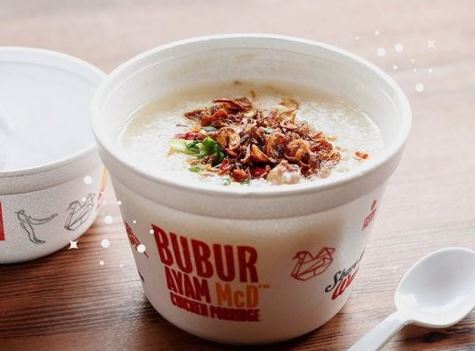 After getting breakfast at McD, we had just a few minutes left before the train would leave. We ran to the platform and I still had enough stamina to muster the strength to whip out my phone to snap a picture (while half running to coach A, which was towards the end of the platform), just for remembrance sake, though I was also pushing a trolley bag 😀
The Juice Rilakkuma toy can blink its eyes at the press of a button behind. Cass loves it, though she's on the brink of turning 10. She's still very much a little girl in some ways.
Our trip to and fro Ipoh this time was pretty eventful!
On our  ETS trip to Ipoh, Cass and I were locked inside the toilet.  The lock of the toilet was jammed up and we could not unlock it.  We banged on the door to elicit help.  Signal strength inside the toilet was weak and it was only after a few tries that I managed to call the hubs for help lol!  The staff unlocked the door for us.
Our train ride back to KL today was more chaotic.  Someone had put cans of Kickapoo into a bag and as luck would have it, one of the cans exploded and the sticky sweet liquid dripped down to the seat from the rack above where the bag was placed.  Hubs and I had to bring the bag that's soaked with soda to the toilet to clean up the mess. I used up all the tissue papers that I could find in my bag to wipe  the bag and clean the floor of the train. Everything inside the bag had to be placed on the floor outside the toilet  so that we could wipe the bag dry.  Oh. My. Gawd. How hygienic can that be!! I gave the girl a big piece of my mind over this.  This is what happens when kids are forbidden to drink sodas and sugary drinks at home.  They go crazy over them at every opportunity (and especially at the grandparents' place) and trouble often brews!
After lunch of vegetarian fried mee hoon cooked by dad, we had our usual ang pow giving ceremony.
The first day of CNY this year is also Drama Queen's 13th birthday.  Dad ordered a pandan chocolate cake from JJ Cake & Swiss Rolls Bakery to celebrate his 2nd grand daughter's birthday.
This lucky girl collected a good amount of ang pow this year for CNY and her birthday.  She had a jolly good shopping spree the next day at Kinta Parade using her birthday ang pow money.
This year, we have two new additions to the Yong family ~ a set of twins (a boy and a girl) from big brother Raymond and wife.  The twins are super adorable and I can never get enough of cuddling them.
Our first sumptuous reunion dinner was at Kok Thai Restaurant.  Despite the crazy CNY crowd, quality of the food wasn't compromised and everyone enjoyed the meal.
At night, we had drinks  with our Ipoh childhood friends who are also our travel and makan kakis at M Roof Hotel from 10 p.m. until midnight.  We could have stayed longer to chat but had to leave early as we had to wake up early to attend  another reunion meal the next day at the Yaps' ancestral home.
Here's wishing all my readers a PAWSperous and healthy woof woof year 🐶🐶  Koong hei fatt choy everyone!
No. of times viewed = 4
Please follow and like us: