If you're prepared to sweat it out under a canopy in the hot sun to enjoy one of the tastiest Hong Kong style ngau lam mee (beef brisket noodles) in the Klang Valley, head over to Yung Kee at Kwai Hup Restaurant (coffee shop) at Jalan Pudu.  We did just that on our Saturday morning when the hubs was in the mood to drive us to Pudu for breakfast.  Though we sweated buckets sitting under the canopy in the 11:30 am scorching hot sun, we enjoyed our beef brisket noodles with beef balls, beef tendons, wagyu beef and honeycomb like tripe cow's stomach thoroughly.  And then tapau-ed 50 pieces of uncooked beef balls at 80 sen each.  🐂
Housed in an unassuming coffee shop, no one would have known that inside the coffee shop lies the tastiest beef noodles stall in the Klang Valley. Housed inside the coffee shop is another stall that sells prawn noodles and shredded chicken noodles.
Below – our order…
Below – the homemade 'lai fun' with thick goey broth is unlike other ngau lam mee.  The 'lai fun' has good texture, the broth is rich and beefy; sesame seeds and toasted peanuts are sprinkled on the noodles to add moreishness, crunch and an earthy hint to the bowl of goodness.
While hubs had 'kon lo lai fun', I stuck to meehoon (my all-time favorite noodles) in beefy soup.  The soup has a robust beefy taste and is thicker in consistency than those from other stalls.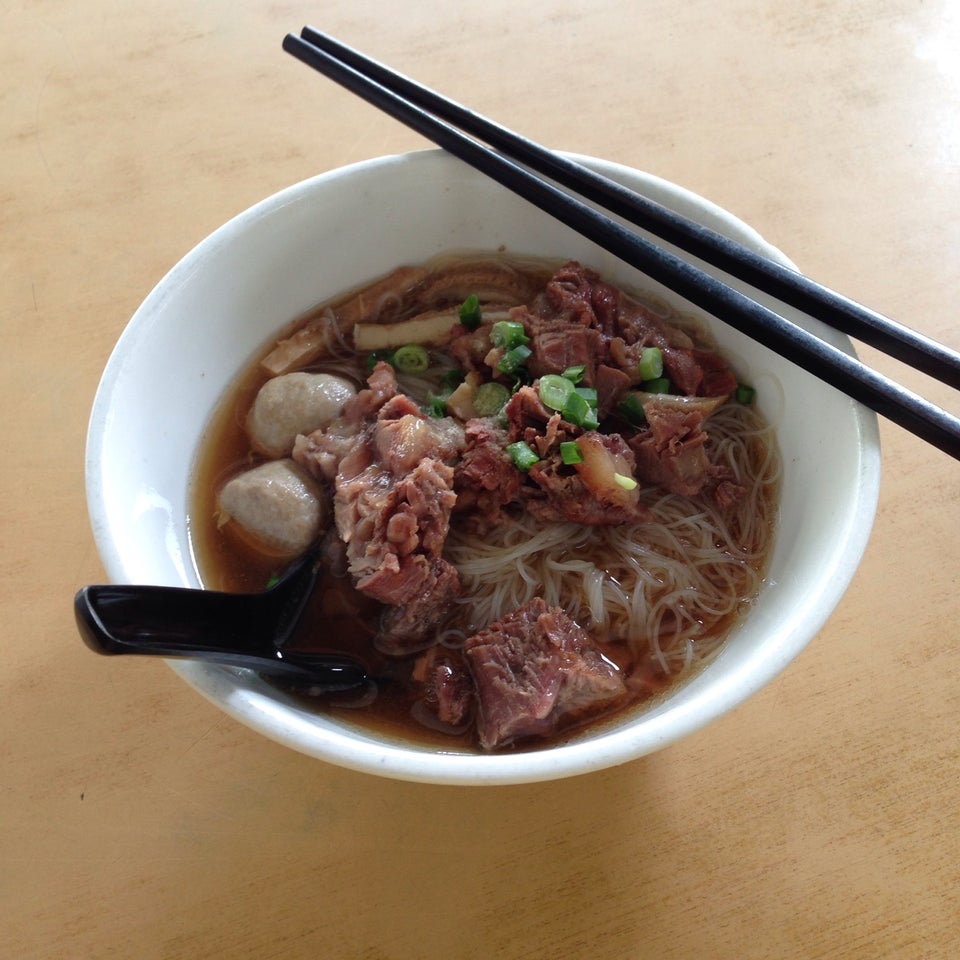 Below – our mean bowl of Wagyu beef which tasted heavenly! Check out the thinly cut strips of Wagyu beef, cooked to a tee, with hues of pink  and a little fat. They melt in the mouth. After snapping a picture of this, nothing was left in the bowl for me anymore!  They were wolved down in a jiffy!
Below – Albert Lai (the owner) had honed his skills in Hong Kong to prepare beef noodles.
The total bill for our breakfast including the 50 pieces of takeaway beef balls cost  over RM130 for 3 adults and 3 big-eater kids. Reasonable?
We're having another round of beef balls with  noodles at home for dinner tonight. The smell of the beef balls simmering in the beef broth wafting in the air is making my tummy growl now! 😋😋😆🍜🍜🍜
Yung Kee Beef Noodles,
Restaurant Kwai Hup,
24, Jalan Kancil,
Off Jalan Landak, Pudu, KL.
Tel: 012-215 8009.
Open: 8am to 3.30pm. (On Saturdays and Sundays, they usually finish by 2pm).
No. of times viewed = 46
Please follow and like us: